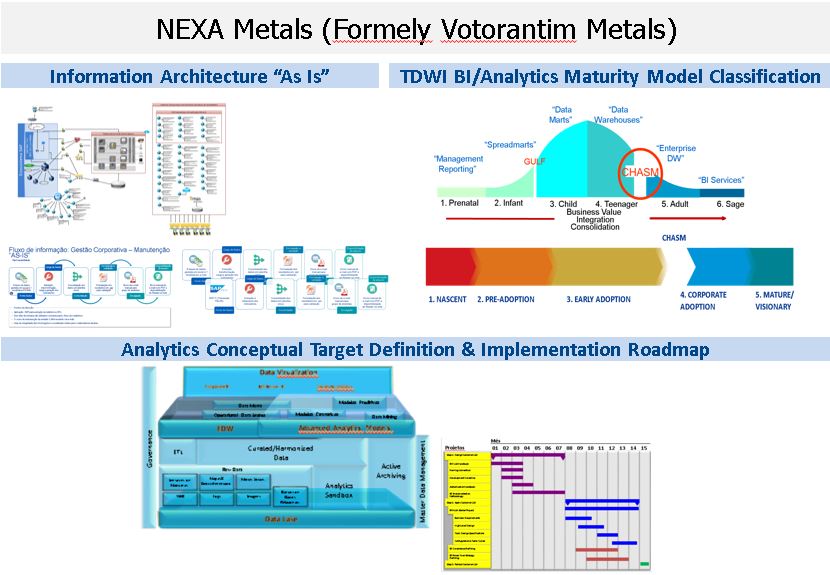 In partnership with KPMG, I performed the mapping and diagnosis of systems and information bases, and a detailed survey of the information flows of the business processes of Nexa Metais.
Based on the "As-Is" survey, I developed a study in order to classify  the Nexa Metals Maturity Level in BI & Analytics using the parameters fo The Data Warehouse Institute (TDWI) Maturity Models
With a theoretical and academic background, I developed the Conceptual Target Architecture, totally agnostic regarding the technologies to be adopted. Allowing Nexa Metais to define the premises: economic-financial; Corporate and decentralized IT management; Technological paradigms of the Votorantim Group; And market innovations such as IoT, Big Data, Self-Service BI, Prediction etc.
Based on that premises, I defined the Branded Model of the Target Architecture, as well as a Roadmap for its implementation. Also, I proposed a CoE model in Analytics to allow Nexa Metals to reach the most advanced stages in the framework of the TDWI BI/Analytics Maturity Models.

In partnership with SAP, I developed "best practice" for SAP BW, BW-LSA (Layered Scalable Architectrue), with a high degree of governance of data models and flexibility in A 7x24 availability in operations in Brazil, Canada, Mozambique, England, Oman, China and Australia
Responsible for the PoC Business Requirement refining, being the Technical Leader of the tool selection PoC, and Solution Architect responsible the conception of the final solution and integration involving: Environmental Management - SAP EC; Data Warehouse -AP BW; Georeferencing - ArcGis and Geoserver; Data Visualization - Tibco Spotfire
Responsible for the development of "handbooks & guidelines", configurations in the system, transfer of knowledge to the staff of Vale's IT staff, and consulting firms.
Responsible for the development of Vale's BI methodology for BW-LSA implementations including document templates, flowchart and training material, as well as structuring in SAP Solution Manager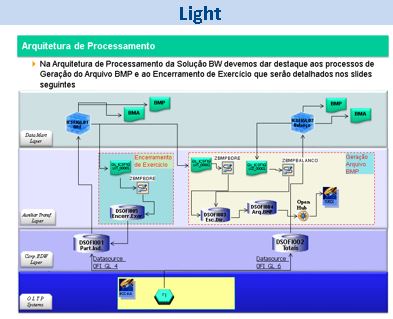 Responsible for defining the ANEEL reporting solution using SAP BI 7.0 and SAP ECC 6.0
Responsible for the configuration of the ANEEL Solution in the FI-GL and by the configuration BW: DSO's; Infocubos; Processes of Data Transformation; Transformations; Chain of Processes; Reports (WAD) and Open Hub Destinations.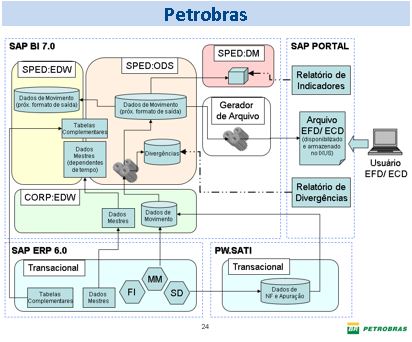 Definition of the solution architecture to meet the electronic files generation of the Public Digital Bookkeeping System - SPED Petrobras;
Design of the SEPD solution in SAP BI 7.0 for data extracted from SAP ECC 6.0 (R/3) and the fiscal calculation solution Pw.Sati;
Definition of the pre-validation of the accounting and tax files of companies and their subsidiaries, avoiding tax exposure (technical rules of the Federal Revenue Service and Petrobras business rules)